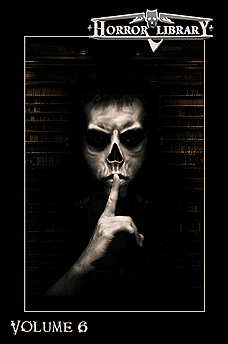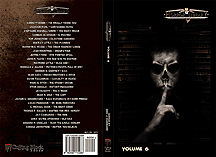 (Click above for full cover wrap)

+HORROR LIBRARY+ VOLUME 6
---
Shepherded by new series editor, Bram Stoker Award-winner Eric J. Guignard, +Horror Library+ Volume 6 is imbued with a remarkable level of literary energy and purpose, featuring 27 brand-new horror short stories from authors such as Jeffrey Ford, Bentley Little, David Tallerman, Carole Johnstone, and John M. Floyd, amongst notable others. Whether monsters of war-ravaged winter, vengeful ghosts of the dead, murderers lurking in your shadow, or supernatural rites of diabolism, these stories were compiled to evoke emotion, share wonder, incite inspiration, and provoke more than a few grins and gasps.
So step inside the Library—if you dare—and face as compelling a cavalcade of monsters, ghosts, and terrors as you could want. As always, if you'd like a snapshot of where modern literary horror fiction is headed, you've found the right book!
Enclosed within its pages are tales such as these:
• In "Elsa and I," a Hollywood stage hand working on The Bride of Frankenstein, searches for redemption while tortured by drug addiction and regret.
• In "Better You Believe," a mountain climber tries to keep alive her lover and friends in the face of a catastophic avalanche . . . and other troubles.
• In "The Red-Eye to Boston," certain revenge is found in the toilet of a night-flying plane.
• In "The Starry Crown," a journalist investigating the roots of a hymnal song, discovers itís glorious verses speak to a practice of terror and murderous sacrifice.
• In "The Night Truck," Certain visitors appear on Halloween, at midnight, in the dark, and to those alone . . .
. . . and 22 more!